Amitabha Monastery is also called Seto Gumba, which means 'White Monastery' in the local language. The breathtaking monastery is made of white stones, giving it a pristine façade. The walls are decked with local murals and frescoes that depict the life of the Buddha and the Buddhist culture. The monument is also home to sacred statues made of medicinal clay. The Stupa looks breathtaking during sunset! The route is much-frequented, so you are bound to find some trusty hiking companions as well.
Starting point: Swayambhu

Ending point: Seto Gumba
Distance: 15 kilometres
Duration: Minimum 3.5 hours
Altitude: 1500m/4920 ft
Highlights:- Stupa and murals


- Sunset and sunrise view
- A panoramic vista of Kathmandu valley
- Clay statues
2. Kakani Hike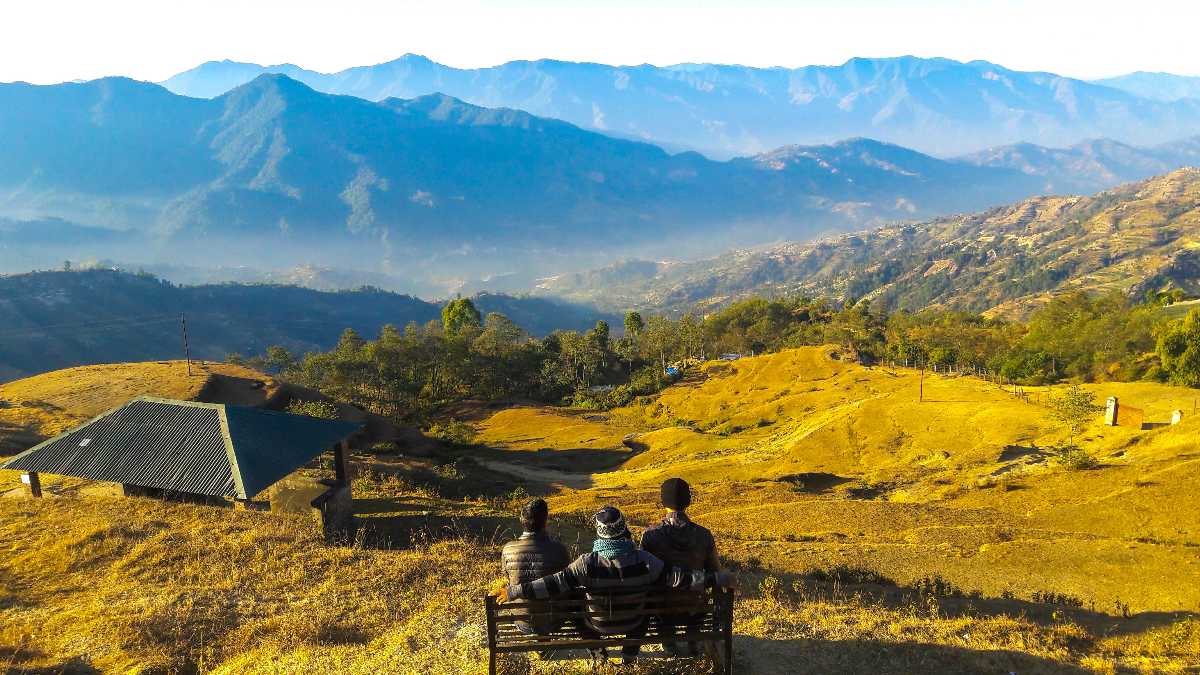 This gorgeous route takes you right through the alpine forests, to Kakani - a small village near Kathmandu. The trail is easy, gravely and has a very slight incline, making it easy to hike. If you want to rest, there are numerous picnic spots and roadside shops to take a quick break. Don't forget to try the local cuisine at Kakani!
Starting point: Kathmandu
Ending point: Kakani
Distance: 25 kilometres
Duration: Minimum 5 hours
Altitude: 2000 m/6560 ft
Highlights:


- A trek through sub-alpine forests
- Astounding views of Kathmandu valley
- Forests full of oak, pine and rhododendron trees
- Views of Langtang Mountain Range, Shisha Pangma Range, Annapurna Range, Mt Manaslu
3. Phulchowki Hike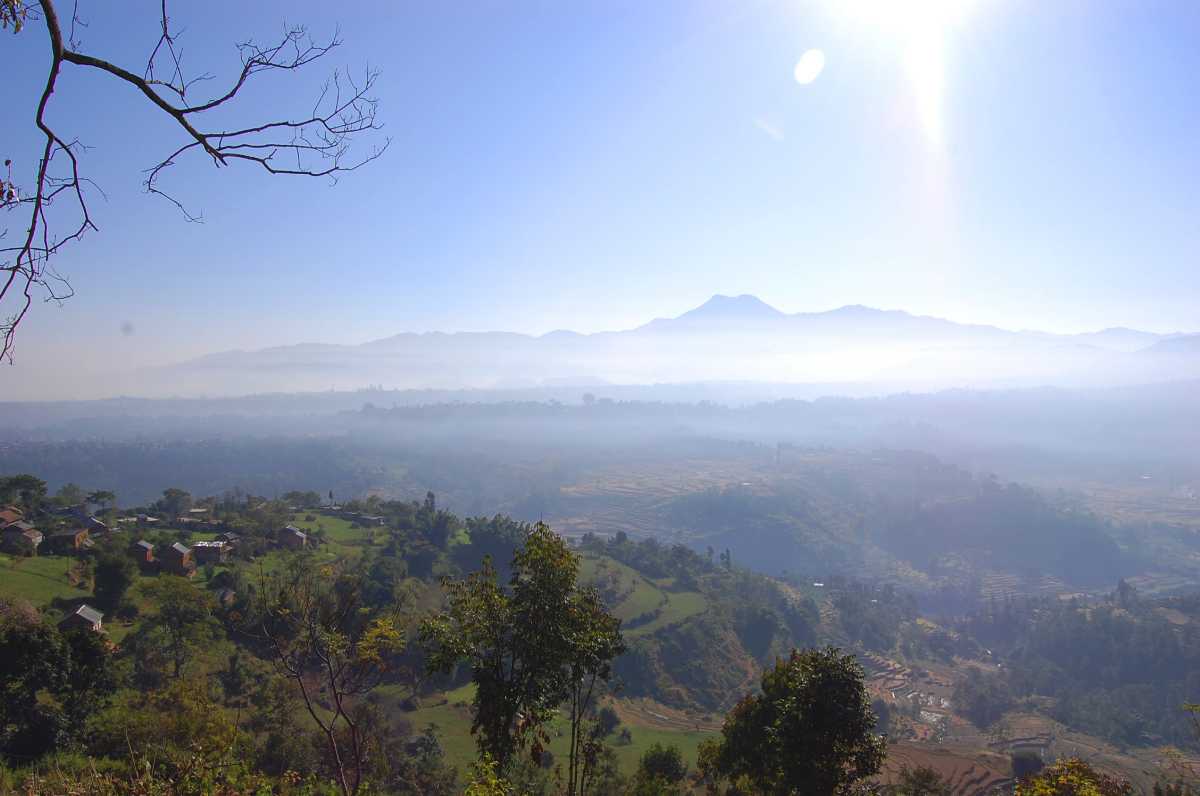 Phulchowki
is the highest hill in Kathmandu valley, which means that the views from the top are sure to be astounding! You are bound to find hikers with you as you try to scale this hill. Your hike is punctuated by snow-capped mountains, exotic birds and towering mountains on all sides. Once you reach the village, spare a visit to the Botanic Garden to spy some colourful, eclectic plants. You can also stay in hotels or camp at designated locations.

Starting point: Kathmandu
Ending point: Godawari
Distance: 19 kilometres
Duration: Minimum 3.5 hours
Altitude: 2782 m/9130 ft
Highlights:


- Outstanding views of Kathmandu valley
- Vista of Annapurna and Gaurishankar mountains, Mt Everest, Mt Manaslu
- Botanical garden
- Diverse flora and fauna, especially birds, orchids, butterflies and rhododendrons
4. Nagarkot Hike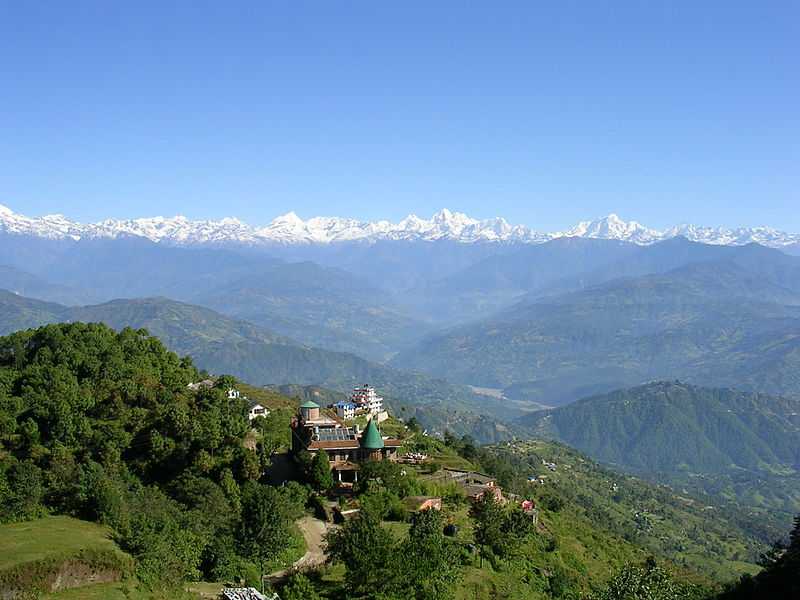 This hiking trail is preferred by enthusiasts because of the scintillating views of the Himalayas at Nagarkot. The Newari village Of Sankhu is the starting point of the trek. Feel free to explore the culture and cuisine before you head out to Nagarkot. You also have the option of camping out at night. What more do you need?!

Starting point: Sankhu
Ending point: Nagarkot
Distance: 28 kilometres
Duration: Minimum 5 hours
Altitude: 2175 m/7135 ft
Highlights:


- A taste of Newari culture at Sankhu
- Sunrise and sunset points
- Nagarkot Tower
- View from Dhaulagiri to Kanchenjunga, Mt Everest, Mt Manaslu, Ganesh Himal, Langtang
5. Sundarijal Hike
This trek is the easier option to explore some wild terrain, simple inclines and beautiful scenery. The path goes through Shivapuri National Park, which makes for some amazing views. If luck favours you, you may spot some animals as well! You can extend your walk to the Chisapani settlement, to get a feel of the local tribal culture.

Starting point: Budhanilkantha

Ending point: Sundarijal

Distance: 22 kilometres

Duration: Minimum 6 hours

Altitude: 100 m/4930 ft

Highlights:
Passing by lakes and waterholes
Shivapuri National Park
Chisapani settlement
Views of all major mountains
Waterfalls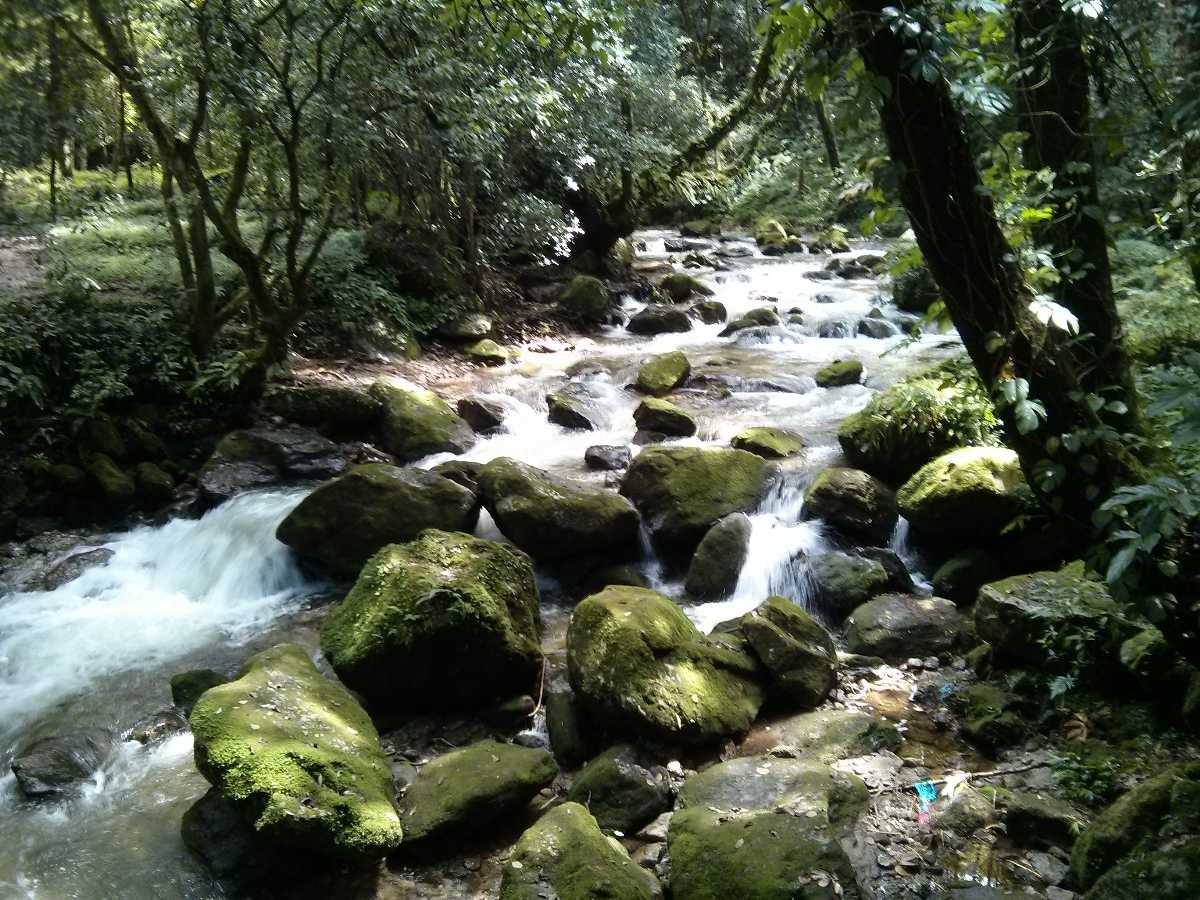 6. Shivapuri Hike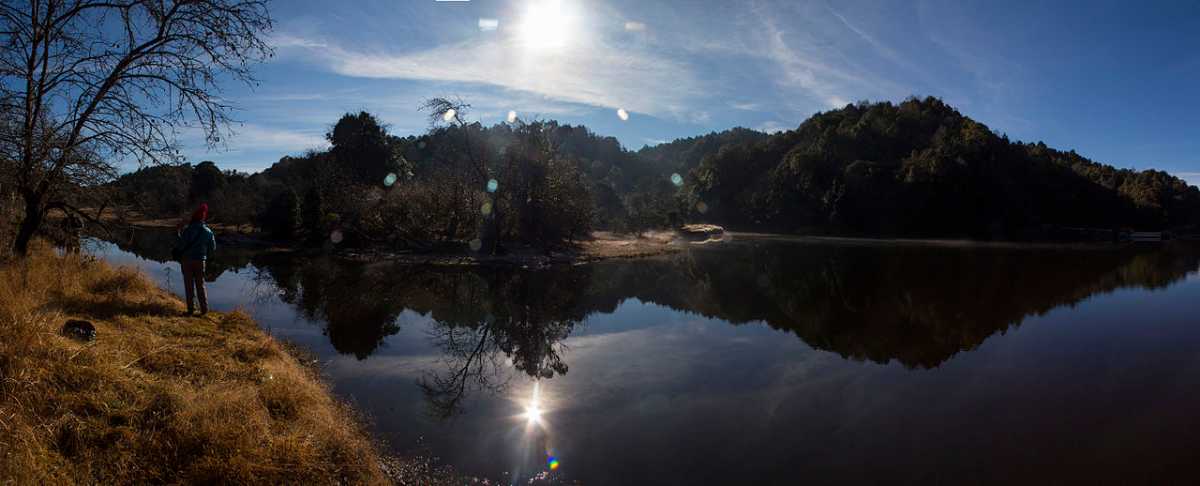 This is the first phase of the previous trek that you can either drive over or choose to walk. This trail has a steeper incline, but is totally worth it, for the sights that await you on this hike are truly one-in-a-million. If you tire out too soon, you can always hitch a ride on a pony or a jeep. The Budhanilkantha temple is said to possess great power and has wish-granting abilities, while the Nagi Gompa is a centre of quiet reflection.

Starting point: Kathmandu
Ending point: Shivapuri
Distance: 10 kilometres
Duration: Minimum 5 hours
Altitude: 2560 m/8400 ft
Highlights:


- Shivapuri National Park and conservation area
- Budhanilkantha temple
- Nagi Gompa
7. Namobuddha Hike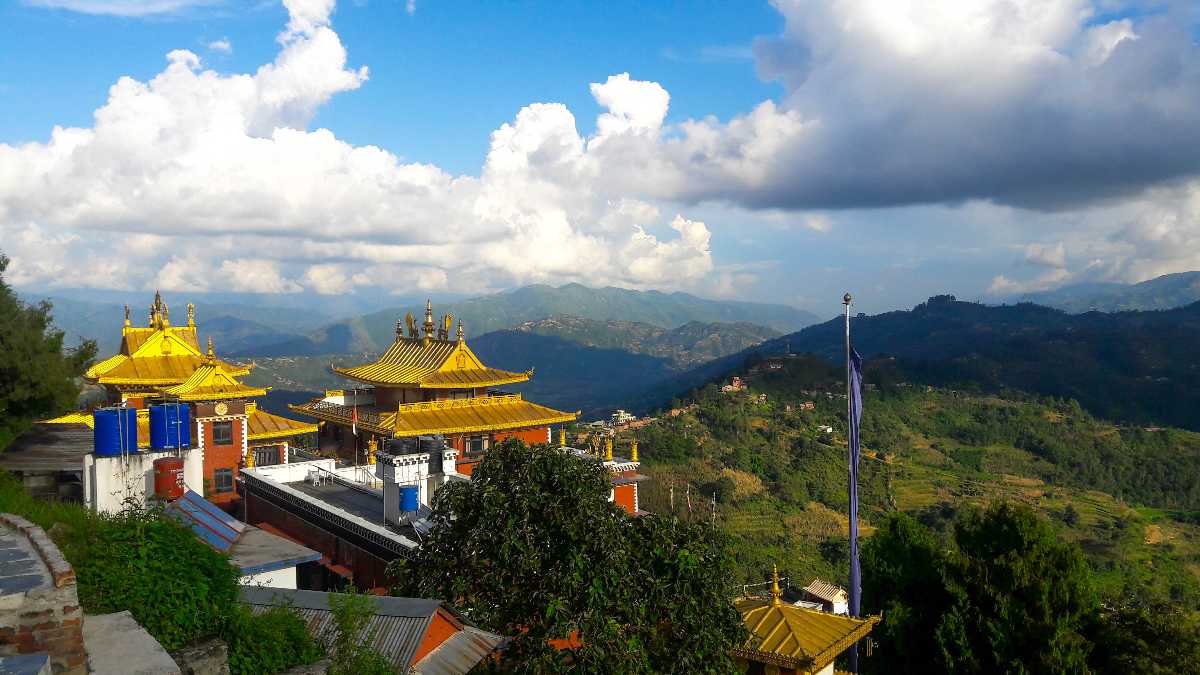 This Buddhist shrine holds high significance for tourists and devotees alike, as it depicts the story of Mahasatta, a prince who fed himself to a tigress and her cubs. The Stupa at Namobuddha radiates peace and calm and is a must-visit. You can follow a small river from the town of Panauti, which looks breathtaking. If you're lucky, you'll find Nepali farmers in action and maybe help them out too!
Starting point: Kathmandu
Ending point: Namobuddha
Distance: 38 kilometres
Duration: Minimum 6 hours
Altitude: 1800 m/5900 ft
Highlights:


- River trail
- The quaint town of Panauti
- Suspension bridge
- Buddhist Stupa and shrines
- View of Mt Everest and Langtang Mountain Range
8. Champadevi Hike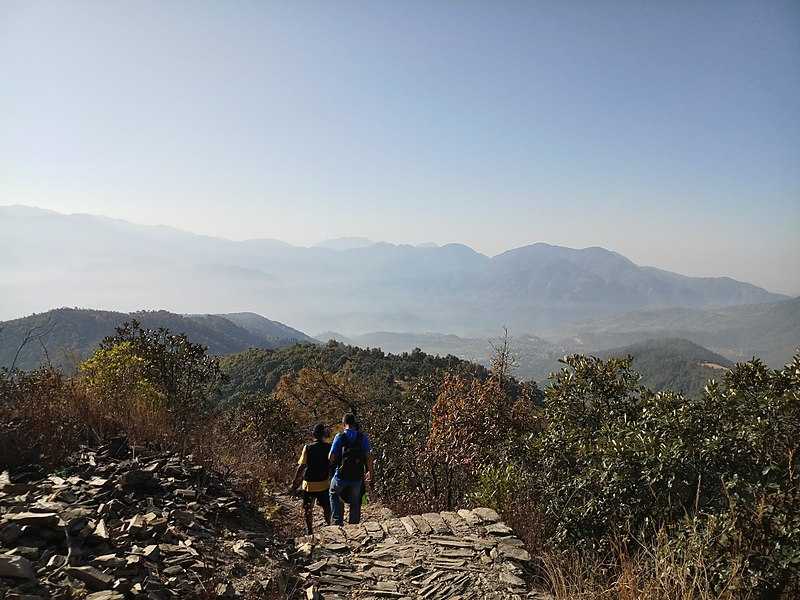 The Champadevi trek is super famous because it is equal parts adventurous and rewarding. This takes you through a dense pine forest with stunning views. You will reach a quaint monastery at the end, where you can sip on hot milky tea. Don't forget to take a map along!
Starting point: Kathmandu
Ending point: Pharping
Distance: 20 kilometres
Duration: Minimum 4.5 hours
Altitude: 2249 m/7380 ft
Highlights:


- Stupas and shrines
- Monastery
- Pine forests
- Langtang and Annapurna range views
9. Chisapani Hike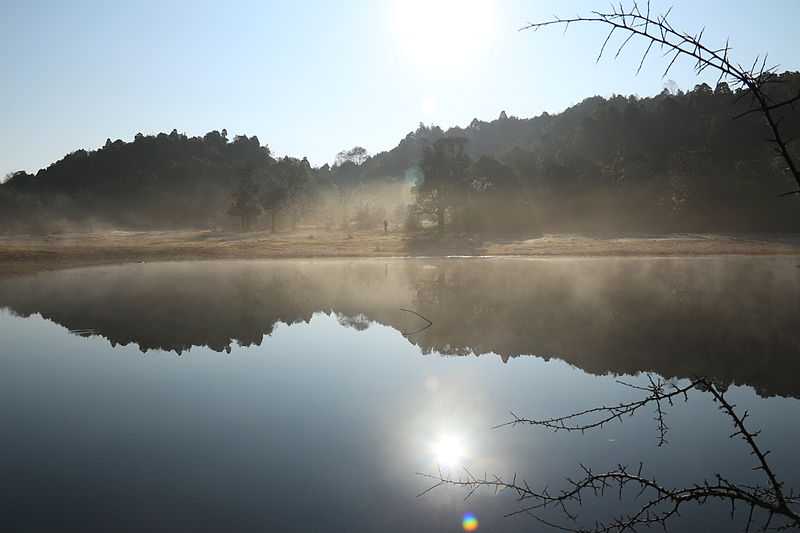 The Chisapani hike is a local favourite because it takes you through the Shivapuri National Park, Chisapani village and dense forests, all under four hours. You are sure to fall in love with the simple village, which is set against the magnificent backdrop of the towering snow-capped mountains of the Himalayas. You may even be able to spot animals in the forest!

Starting point: Sundarijal
Ending point: Chisapani
Distance: 13 kilometres
Duration: Minimum 3 hours
Altitude: 2215 m/7270 ft
Highlights:


- Chisapani village
- Shivapuri National Park trek
- Views of the sub-tropical forests
- Views of Langtang, Ganesh Himal, Jugal Himal, Gaurishankar Himal ranges
10. Nagarjuna Hike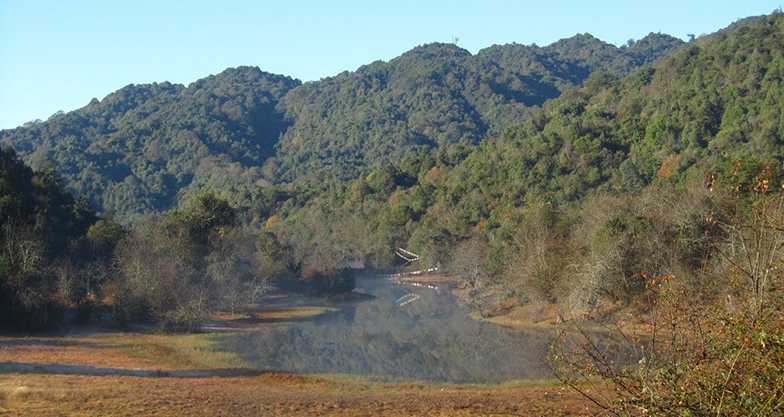 This location holds great historical significance because this is the location that Manjushree, a Chinese saint, first laid eyes on what was to become Kathmandu Valley. An earlier record shows that the Buddha also came to Nagarjuna cave. The Water Garden, a little south of Nagarjuna, is also a must-visit. This exquisite location offers a great range of history, nature and aesthetic beauty! The Padmasambhava Monastery is a small den where hikers can rest and speak to the monks on a wide variety of topics.
Starting point: Kathmandu
Ending point: Nagarjuna
Distance: 20 kilometres
Duration: Minimum 4 hours
Altitude: 1950 m/6400 ft
Highlights:


- Padmasambhava monastery
- Viewpoint
- Balaju Water Garden
- Nagarjuna's cave
- Mahasiddha cave
- Manjushree Cave
Things to Know While Hiking in Kathmandu
Always carry travel essentials on your person - a first-aid kit, water, health bars, flashlight, knife and rope


If you plan on staying over, carry camping gear as well


Carry insect repellant, sunglasses, comfortable clothing, a lighter, matches, portable charger and other toiletries as well


Take care to not litter. Do not throw waste or plastics around, and dispose of responsibly. Remember that you are hiking in the wild


Do not attempt to feed or befriend any animals you may encounter


Carry necessary permits


Carry local currency as small shops may not accept international currencies. In this case, keep coins and notes of the Nepali Rupee - NPR


Plan your trip ahead of time - keep the weather in mind


If this is your first time hiking in Nepal, going with a group is advisable


Always carry a local map with you, with detailed trails. Map your entire journey out before you start


Be considerate to locals, and respect their culture when it comes to attire, etiquette and cuisine


Beware of misleading guides - always hire a guide who is certified by the government. Ask for identification
The best way to fall in love with Nepal is to experience it in all its glory. Hiking gives you that opportunity, as it is cheaper, easier, quicker and sometimes even more rewarding than trekking. Next time you're in Nepal, take a day off and embark on an adventure. Explore Kathmandu on your feet for some unforgettable memories! Which trail calls out to you? Which path do you plan on treading? Let us know! Take the road less taken!